Hair Systems for Men
If You're Looking for a Non-Surgical Hair Restoration Solution, You Don't Have to Fly to Paris to Look this Good!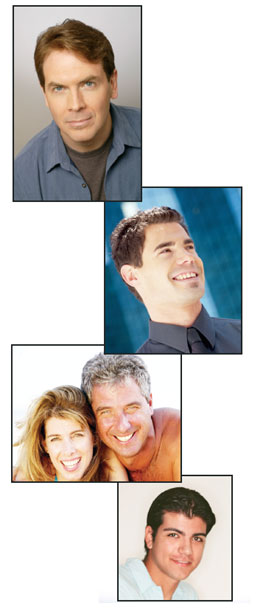 What do these men on the left have in common?
They are all confident and happy?
Not only that but they are all bald! The reason they can't stop smiling is they are wearing our Advanced Image Clinic Hair Systems- inspired by the finest hair restoration centers in the world.
You see, we believe that hair restoration is an art and our goal was to find the "Mona Lisa" of hair systems.
So we sent our hair experts on a mission. And they searched the globe to find a hair system that could meet our Advanced Image Clinic high standard of excellence.
When searching for the perfect hair system, we ask our hair experts to follow these 3 simple rules:
1. The hair system must be easily stylable to keep up with the latest fashion trends.
This is only possible if the hair system offers a great degree of naturalness. This means, the hair has to be 100% human hair and must bounce naturally.
With Advanced Image Clinic Hair Systems, you will be able to style your hair short, long, parted in the side, or slicked back.
2. The hair system must have a natural hair line.
In most traditional hair systems, the hair line is the one feature where people will know you are wearing a hair system if it's not done right.
The reason is many hair systems cannot mimic the soft hairs of a hair line. The hairs are usually tied to the system's base and you can see tiny knots where the roots should appear.
The result is a rigid-looking hair line with no softness to it. People can spot this a mile away and is why men wear their hair systems with bangs- to cover up the unnatural hair line.
With our Advanced Image Clinic Hair Systems, the way the hair is grafted on to the base creates a hair line that is soft and natural. It looks real even at close inspection. This allows you to style your hair like the men in the pictures above.
3. The base of the hair system must also look natural.
The hair system's base is where the hair is attached. Common materials that bases are made of are nylon, polyurethane, or lace. At close inspection it doesn't resemble what a real scalp should look like. You may see a mesh or honeycomb pattern on some hair system bases.
With our Advanced Image Clinic Hair Systems, the base is like a dermal membrane which resembles a layer of skin. The hair is then carefully grafted to the membrane in such a way to mimic growth patterns like a real head of hair would have.
When attached to the scalp, the dermal membrane is so transparent that it looks like its part of your own skin. It practically melts onto your scalp with no visible edge. The result is the hair actually looks like its growing out of your own scalp!
After searching for the best of the best, we delivered...
Introducing the new and improved Advanced Image Clinic hair system. A high quality, totally undetectable non-surgical hair replacement system at an affordable price.
Imagine wearing your hair short again and throwing on some mousse to spike it up. Or imagine wearing it long and parted on the side as seen in men's fashion magazines. What about slicking your hair back? That is unheard of with most hair systems, but we found one that could do it all!
Flash back to your younger days, before your hair fell out. Go on a date, a motorcycle ride, or even wind surfing.
Live your life and enjoy the benefits of our Advanced Image Clinic Hair Systems:
Style your hair anyway you want. Wear it short, wear it long, or slick it back!
Complete breathability - Work out, swim, and do other physical activities.
Wash and shampoo as if you never lost your own hair.
Sleep in it; you don't need to take it off!
Best of all, look younger and get your confidence back.
It all starts out with a phone call.
AIC has a wide selection of hair systems if the Advanced Image Clinic hair system does not fit your needs.
Please call now for a free, no-obligation consultation at 425-883-2900 or Toll Free at 866-533-4247 to determine which hair system is right for you and fits your lifestyle.
Ask about our membership programs and financing options.